Have you ever imagined being alone in Park Güell middle of this immense place? Or just find yourself face to face with the dragon guardian of the park? We have experienced it this weekend and I want to explain and show it!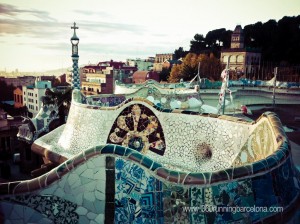 360runningbarcelona alarm clock rang early in the morning last Saturday. We wanted to run the most touristic Barcelona! We started on the road of Carmel and from there get into the Park Guell. We had our little pocket camera, did not want to miss the opportunity to show you one of the most beautiful feelings are like walk around the city without tourists!
We arrived at the Park Güell square. No one is there! Trencadís made bench all for us! We take some pictures and sit a while, something we had never done before!
Climb up the Turó de les Tres Creus for a having a great view of the city that had just awakened. Let's take a loneliness tour in the by the park paths and just discovered some of its unusual corners. It's very exciting to get the entrance stairs and getting in front of Gaudí dragon and that no one, no tourists are there! We need to take a picture!
Then we go down the street to Plaça Lesseps, Gran de Gracia Street and go down until the Hotel Casa Fuster. At Cinc d'Oros square (everybody in Barcelona should know this name!) we have already crossed Avinguda Diagonal and go down the Passeig de Gràcia: let's take some pics of one of their most interesting monuments such as Pere Falqués lampposts and, of course, La Pedrera (or Casa Milá), Casa Batlló, Casa Ametller, la Casa Lleó Morera, etc.. Don't' worry if you are not so romantic, you should know that we pass in front of the recently opened Apple Store!
Cross the Plaça Catalunya without having to dodge neither pigeons nor any tourist. And now the Ramblas! We can not believe we are about to run the five sections of the Rambla. How exciting! First of all let's drink water from the Canaletes fountain and let's start running: Nuria coffee, the building of the Royal Academy of Arts and Sciences, the Palau de la Virreina, the market of Sant Josep, Casa Bruno Cuadros, and Miró mosaic, the Lyceum, now reaching Colon. And at the foot of the famous statue can terminate our tourist route, but no tourists!
We hope you come and run with us this or any of our other routes
Remember to put your shoes on and run Barcelona with us!
www.360runningbarcelona.com