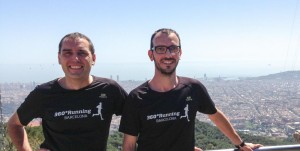 We are Jaume Pedregosa and Joan Brull, two friends who live in Barcelona and who love running and our city. For years, we have run the streets, parks and mountains of our city, discovering unexpected connections and new ways of looking at Barcelona. Because we love our city we believe the best way to let people know it is to share what we know.
We have begun 360runningbarcelona but gradually more people have been joining. As Clara and Anna, heritage experts and official tourist guides, who help us in the design and planning of routes. Or David Gasol who takes care of the food and nutrition tips. And Carmen Rios that helps with digital marketing and English translation..
We hope that in the future will be many more.
This is why we thought of 360º tours in order to see Barcelona from another point of view, to look at our city with a bird's eye view.