Today I went running with Claus. He came from Denmark to spend a few days in Barcelona. A good runner always travels with a pair of running shoes in its suitcase, so he contact us two weeks agoe to do a city running tour and discover our city as we like, running! So we prepared a running tour through the Gothic Quarter and the Born neighbourhood.
Before leaving home I was a little nervous because I wanted run a good tour. But also was a special day for me because I have a new pair of  Asics shoes!
Asics sent me a ew days ago  a pair of Asics 33DFA and was eager to try them and see how would this shoes run!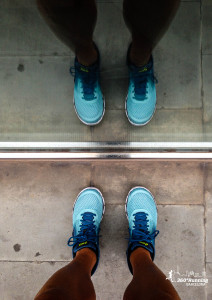 I met Claus at the Barcelona Cathedral and started running the narrow streets of the Gothic Quarter, wit cobble- stones, discovering secret corners, old stories and small squares. Then we went to run the Born district, passing in front of the modernist building of the Palau de la Música, the Gothic church of Santa Maria del Mar and run to the  Ciutadella Park, where there is Parliament of Catalonia.
It was a wonderful tour and I think  Klaus liked it.
Ah! And of course! I had completely forgotten something! That morning I was running with my new Asiscs  33DFA! Perhaps this is the best of all! The shoes are so comfortable that I do not even remember that I wore them!
I immediately realised that they were a very different shoes that the ones I had before: very light, with a a 4mm  heel drop  and a low-to-the-ground midsole that connects you to the road. Shoes conformed perfectly to our foot thanks to the EVA sockliner.
Despite this low profile shoes are sufficiently cushioned as to enjoy your runs also thanks to the compound Ahar + air breathed that provides great comfort in each footprint.
FLuidAxis technology facilitates the natural movement of the foot and helps to use the muscles of the calf and feet. It enables the shoe to recognize, adapt, and respond to the athlete's exact load and positional change from first impact to toe-off.
And do not worry if you think you wear shoes too fast Asics uses a rubber "Solid rubber outsole" that ensures optimum traction and durability. In addition, Solyte midsole, a different material from the traditional EVA, also provides cushioning and durability.

We did all the running tour with Claus at a very comfortable pace and my new shoes  responded beautifully. But when we finished I wanted to see how responsive the 33DFA where at higher pace, so I decided to test them running a few kilometers just over 4km/h and what surprised was that the shoes were faster than me !
So I can say without a doubt that has been a great discovery to run with a very different running shoes tha I'm used to do, low profile but extremely comfortable. I'm sure I'll keep running with this all 360runningBarcelona tours with this Asics!
If you are looking for comfortable trainers, small but with good cushioning, which allow you to run on asphalt, cobbled streets of the old city or the paths of a park and still not have found it, Asics  33DFA are what you are looking for!
A pair of running shoes perfect for running all around  the city!