Barcelona is a sports town ! Running is cool and the city hosts many sporting events. The races are becoming very popular!
And now begins the 2013-2014 season schedule, so we want to speak about races in the city of Barcelona. Surely we will run many of them !
– Cursa de la Mercè : Race organized by the City Council, it takes takes place this weekend. For us and probably for many people is the race that opens the racing season of 10km races. Is one of the most expected because we all have been waiting all summer to compete !
– Jean Bouin : This is the oldest running race in Catalonia and Spain . We run in the Open category , but different clubs involved up to Montjuïc in a very hard race!
– Cursa dels Nassos: Popularly known as the San Silvestre, in Barcelona they changed the name a few years ago. They call "Cursa dels Nassos" in reference to the figure of the "man of the Noses", a man who has as many noses as days missing to finish the year! The race will be held on December 31 afternoon in the Poble Nou.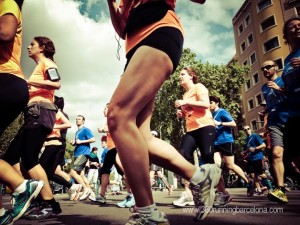 – Barcelona Half marathon : a fantastic race to prove which part of the circuit to run the marathon . You can discover some of the sights of Barcelona .
– Barcelona Marathon : Queen of the races, the legendary distance , a goal of life The marathon is a sightseeing tour as the race bring you the opportunity to see all the most important monuments of the Catalan capital: starting at the Camp Nou, in Barcelona's Eixample neighborhood , La Pedrera , Sagrada Familia , the area Forum , the Arc de Triomphe , the Cathedral , Colon , Plaza España and if the Magic Fountain of Montjuic, and the finish line ! Do not hesitate to try this challenge at least once in your life !
– Firefighters race (Cursa de Bombers): one of the most exciting races of the city because you will spend it well with the atmosphere there music, and many people eager to run!
Sooner we will post about other important races in Barcelona Cursa de Sant Antoni, Maquinista, Collserola's marathon, Sagrada Família mille, Cursa del PobleNou and much more.
You can also see or calendar of running events in Barcelona.